Rocking the AV scene since 16 Years!
From world's acclaimed Digital to Analog converters and popular EDID solutions to HDR toolbox, HDCP converter and award winning UHD scaler, the last 15 years have truly been amazing.
We are feeling an incredible gratitude for our community of supporters and customers  – you all filled our lifes with unbelievable energy and momentum to drive us forward.
Now, we are proud to release three new and furiously innovative AV devices. They have their own unique capabilities and a common base of shared features. Maestro is the world leading solution for 4K HDR over HDBT. Diva is an all in one HDR to SDR converter, Ambient Light and Lag tester. Vertex² have dual 18Gbps output with an exclusive +5V control by software.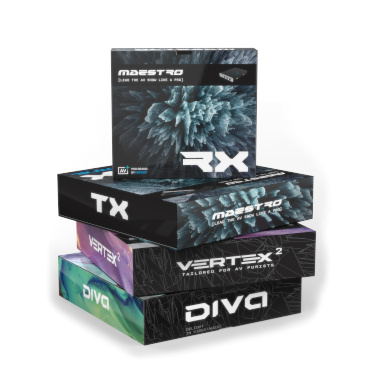 What they can all do for you!
First and sole in the world capable of autoswitching any sources including those that keep +5v in standby mode (Shield, X1X, ATV4K, etc..)
First and sole in the world to offer a HDMI audio output that can extract full audio from ARC/eARC and HDMI sources and forward it to any AVR input.
Setup info always at sight and under control via OLED, On-Screen-Display, InfraRed, RS232, IP and Webserver (Mac/Win/Linux/Android/iOS).
Support all HDMI devices Audio formats, Video resolutions, HDCP revisions and HDR modes in existence and make them play perfectly together.
Boost Nits value, translate HLG>HDR, replace metadata, scale, convert, disable, inform, modify for workflow, calibration or pleasure.

4K HDR over 330ft/100m via HDBT
Maestro is the world leading point to point solution for 4K HDR over HDBT. Transmit proprietary 18Gbps and share internet access via CAT6A ethernet cable. Both units offer OLED display and their own webserver for configuration.

HDR to SDR, Ambient Light and Input LAG tester
Diva offers the perfect solution to play in 4K HDR and stream in 1080p SDR. It provides an unique immersive and 4K HDR/LLDV video responsive experience via Ambient Light add-on. Diva also offers an accurate input lag tester.

Dual 18Gbps output and Fix for Android TV
Vertex² features 2x 18Gbps output that can individually be scaled up or down at will. Through an unique +5v management at outputs, it can fix Android TV issues in stand-by mode or any issues related to any sink device power off mode.